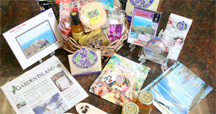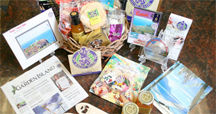 Kauai offers many kinds of shopping throughout the island, from small shops to malls. Stores offer many unique items to take home and enjoy, beyond souvenirs: apparel including aloha shirts, jewelry, home and personal accessories, and art.
On the North Shore, explore specialty shops that carry unique gifts and vintage used clothing. Perusing antiques from exotic lands such as Tibet and India, jewelry, Oriental rugs, pearl bracelets, and other fine gifts can be much fun. You can even find the only soap and candle factory in Hawaii. More interesting shops in Hanalei, Princeville, and throughout the North Shore are nothing short of a shopper's paradise.
On the East Side, Kapaa Town and Kinipopo Shopping Village offer a variety of boutique shops and local eateries.  Aloha shirts, vintage maps, fine art, and jewelry are all available in the area.  Wailua Shopping Plaza houses several restaurants and an eclectic antique shop. The Coconut Marketplace is home to more than 70 shops in which you'll find precious Hawaiian mementos, fine artwork, antiques, jewelry, craft items, and so much more.
Lihue and the Kalapaki area offer country stores, funky and fine art shops, nifty gift nooks, and farmers' markets (on Kauai, they're called Sunshine Markets). Authentic Kauai crafts are a treat to shop for after a tour through the Kauai Museum –Niihau shell leis, woodwork, lauhala weaving, coconut products, and more. Beyond the Kauai Museum, you'll find many more notable mementos to take home including soaps, paintings, clothing, coffee, Kukui guava jams, fabrics, and many other collectible items.
The South Shore has the Poipu Shopping Village with a selection of shops, services, and eating establishments.  The medley of gift choices here is incredible.  Pillows, Hawaiian handmade paper, unique jewelry, children's items, formal and fun apparel (including silk dresses), swimwear, candles, soaps, sterling silver items, and enough to keep you browsing for a day or more.  The numerous surf shops offers surf-wear, swimwear, and water sports equipment. Nearby Old Koloa Town is another stop worth making, with its funky island apparel, Kauai-artist-only crafts, coveted Ni'ihau shell leis, a variety of dining and snacking establishments, local grocery store, candles, soaps, and more.
Eleele Shopping Center on the West Side is where you'll find a handful of stores, conveniences, and tour boat company offices; it's a great place to mix with locals.  Hanapepe is known for its artists and you'll love browsing amongst the smattering of wooden furniture, hand-made soaps, pillows, plates, and cups — all with tropical motifs; antique prints of Hawaii, limited-edition graphics, and several other Kauai specialty products.  Taro chips in numerous flavors make great gifts to take home.  Friday night is Art Night with its block party atmosphere,as art galleries open up for viewing and occasional demonstrations, live music, and light refreshments. Port Allen, where red dirt shirts originated, is also a fun stop for souvenirs, yummy chocolates, and boat tours.