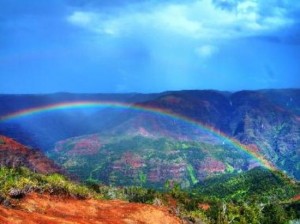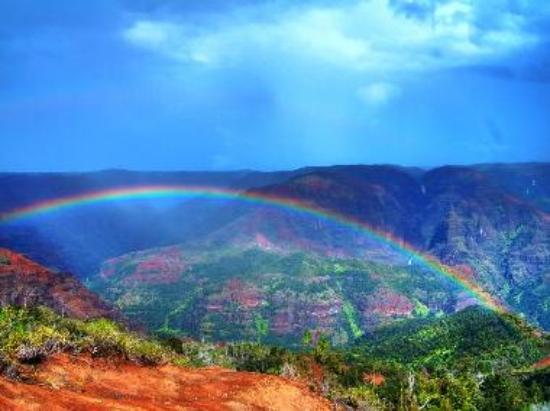 Just past mile marker 8 on the way up to Waimea Canyon is the trail head and parking area for the Kukui Trail and Iliau Nature Loop. The nature loop is about .3 of a mile that takes you to the rim of the canyon then winds you back to the road. The nature trail identifies many trees and plants and has spectacular views on the canyon.
Kukui Trail winds 2000 feet down to the canyon floor over 2.5 miles. Along the trail you may encounter goats and many gorgeous tropical birds, plants and flowers (hint: bring the camera!). On a 'safe note' the trail can become very slippery even on the driest days due to the steep grade so wear your hiking shoes and be cautious of the weather. Don't forget also that you do have to come back up the trail so leave yourself plenty of energy:)  The trail has lots of dramatic overlooks, with the sun shinning through the canyon you will capture some amazing memories…
The trail goes from being very defined at the top, however steep and narrow at places, to total overgrown brush the last about a mile at the bottom. The trail ends at the Wili-Wili campsite and Waimea River. This is a great hike for the first 1.5 miles for all the different canyon views. Unless you just want to say you went to the bottom of the canyon, skip hiking through the forest and brush. There just isn't anything to look at and it can be some of the toughest walking. One idea is to find someone to drop you off at the top and hike back out to Waimea town through the canyon.
To complete the hike, take water, bug spray for the forest and lower canyon, a good energy snack before the trip back up to the top, camera, and a hiking stick. The trail is rated difficult to the bottom, intermediate if you turn around before the forest.
DRIVING DETAILS TO GET TO TRAIL HEAD:
From Lihue Town (airport) take Highway 50 to Kekaha town, appox. 27 miles. Turn right onto signed Highway 55 (KoKe'e Road) and follow it for 8 miles, through the gully and then up the hill to it's junction with Highway 550. Continue up the hill for two more miles to the trail-head for both  the Lliau and Kukui trails. The trail-head is on the right (east) side of the road, and there's a small, dirt turn-out/parking lot on the left (west) side of the road. Park here to start your hike.
Happy Hiking!