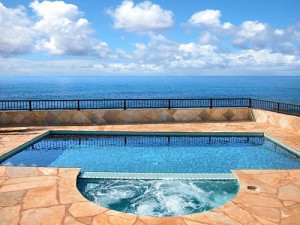 Hana Hou means "one more time" – it's what we say in Hawaii when we want an artist to perform an encore – and that's exactly what you're going to request after a luxurious vacation in this oceanfront Poipu beach rental.
Wake up and stretch your eyes: it's like being on a ship at sea. Make yourself a papaya smoothie and take a seat on the large wraparound lanai (don't be surprised if you see spinner dolphins or whales leaping right off shore).
Take a swim after breakfast in the oceanfront pool, survey the stars from the hot tub at night, and then fall asleep to the hypnotic sound of the surf lapping the shore. From sunrise to sunset, Hana Hou Hale will keep you coming back for more.