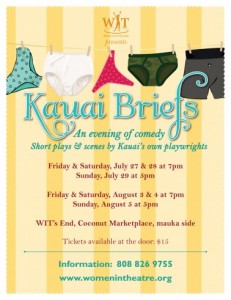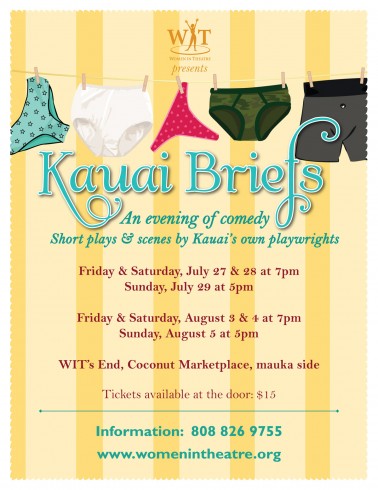 Things to do on Kauai:
Beach. Check.
Mai Tais. Check.
Sunsets. Check.
Theater… Theater?
On Kauai? Yes, actually. This island is brimming with talent, so after watching a glorious sunset (with Mai Tai in hand, of course), head out to Women in Theatre's latest production, "Kauai Briefs," weekends through August 5.
The program—two new short plays by Kauai playwrights, plus "The Guest Lecturer," a one act by A.R. Gurney—will be performed at the WIT's End theater in the Coconut Marketplace in Kapaa (next to Sole Mates). Tickets are $15 at the door.
Performance Dates and Times:
July 27, 28 –  7pm
July 29 – 5pm
Aug. 3, 4 – 7pm
Aug. 5 – 5pm
Need more info? Call 808 826-9755