If you appreciate beauty – and you wouldn't be vacationing on Kauai if you didn't – check out the second annual Kauai Plein Air Invitational June 9-16.
Sixteen of Kauai's most talented artists will participate in this week-long event, which concludes with an art sale to benefit the preservation of three of Kauai's most historic buildings.
Whether you're an artist, a collector, or seeking the ultimate "live" landscape – Hale O Ke'anuenue  ("House of Rainbows") – is an Asian-inspired masterpiece with views of whales breaching, majestic sunrises and rainbows arching over Kalihiwai Bay.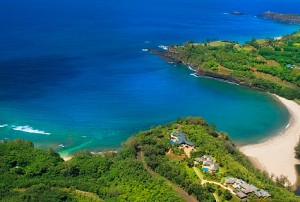 Three bedroom suites with lanais connect to a courtyard with a custom pool, grotto and an outdoor spa. The master suite (with a private outdoor shower garden) is accessed by a covered bridge, and there's a secluded knoll that's perfect for reading, sunbathing – or painting – and a private walking trail to Kalihiwai beach.
I'm inspired just thinking about it!